Xandari Resort & Spa


DAY TOURS
SWIMMING

HIKING

DAY SPA

SHOPPING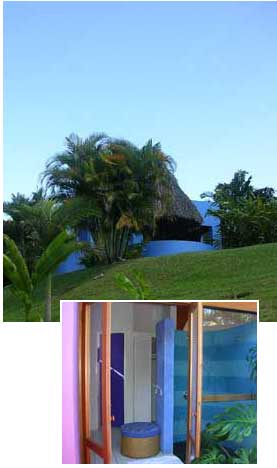 As the Egyptian word Xandari implies, we were 'warmly greeted with an open heart.' Some 15 minutes from the San Jose International airport, we were escorted by the staff of Xandari to their mountaintop location.
Situated on 40 lush acres, nearly four thousand feet above sea level, this coffee and fruit plantation features spectacular panoramic views overlooking the central valley and its picturesque farms, rivers and cities.

An architectural masterpiece, Xandari Resort and Spa comprises of 19 artfully designed spacious villas, a luxurious day spa, gallery and gift shop and a fine restaurant. Colorful gardens, mosaic ponds, pools and streams add to its tropical ambience, emulating the incredible vision and design of architect Sherrill Broudy and artist Chalene Broudy.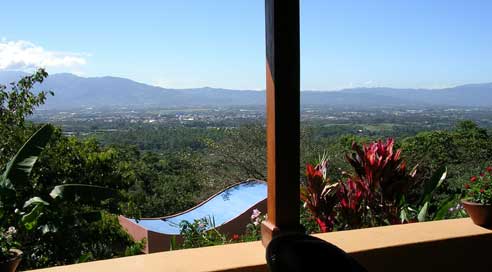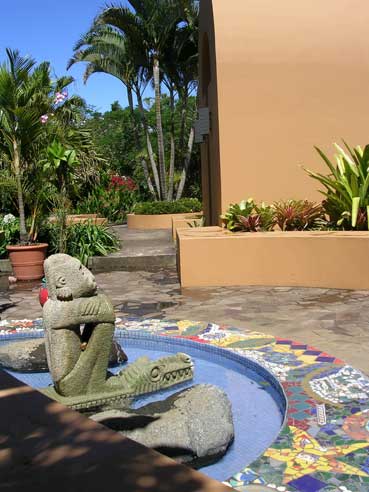 It was late when we arrived at this oasis, far from the noise of the city below. Entering our villa was like walking into a piece of art. Geometric-shaped walls reach up to the high teak ceilings, curving like waves in the main room and complemented by rock and colorful mosaic tiles in the bathroom. The play of shape, color and light was entertaining and the original artwork on the walls added to the artistic expression of the dÈcor.
A fresh breeze came through the large glass sliding doors from our balcony overlooking the lights of San Jose only 17 miles to the south. A feeling of solitude surrounded by beauty and the scent of paradise quickly brought on a restful sleep.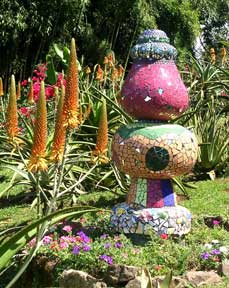 We were awoken by songs the of birds and a platter of organic fruit. On our veranda under the morning's light, we sipped fresh Costa Rican coffee while we prepared for a hike around the Xandari plantation.
We hiked the three kilometers of private trails with spectacular vistas. I was amazed at how much work had gone into the creation of this place with its terraced trails, with the careful attention to the gardens and the placement of mosaic sculptures. Every view was a feast for the eyes. It was truly magnificent. We found two of the many dramatic waterfalls, a bamboo garden and citrus orchards where much of their fruit is grown.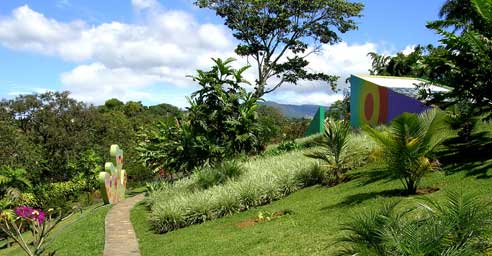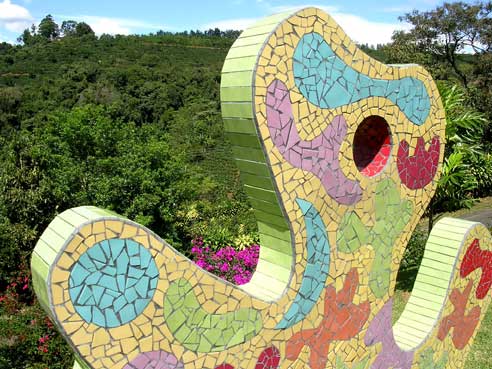 Afterwards we refreshed ourselves in one of the 60-foot long lap pools located on the grounds. Then it was off to lunch in Xandari's restaurant. Their healthy gourmet cuisine is prepared with an emphasis on fresh and organic produce from Xandari's gardens and orchards. Fresh meats and seafood are obtained from local ranchers and fishermen. I even had a moment to checkout the inspiring works of Chalene Broudy, displayed in her art studio below the restaurant.
We could have spent several days here at this centralized location in Costa Rica, as they offer 26 different day trips including river rafting, rainforest canopy tours, volcano walks and much more. Feeling rested, inspired and quite content, we checked out in the early afternoon and headed to the airport ready for the adventure of a lifetime.
Website: xandari.com
Airport transfers: $14.00 each way
Lodging: $145.00-260.00 per night, packages available
Story and photography by Denise D. Stansfield. Copyright ©2000 All Rights Reserved.