Rangiroa, Tuamotus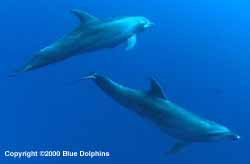 Cousteau put Rangiroa in the class of lagoons with the richest fauna in the world. It is one of the top International dive spots. With its turquoise lagoon, Rangiroa is the second largest atoll in the world. It opens through two passes at Tuputa and Avatoru. Both offer spectacular diving excitement in the strong currents fancied by the large pelagic animals.
Sharks, dolphins, eagle rays, turtles and manta rays abound. Eagle rays can be seen in December through January followed usually by their predators, hammerhead sharks. Excellent diving is available all year long. Because it is an atoll, water visibility can reach 150 feet or more.
Blue Dolphin Divers is situated at the Kia Ora Village Hotel on the most paradisical beach in Ranigoria. Only feet away from the dive shop is the Kia Ora dock where the boats pick you up. The center offers four dives per day plus a dive school for new divers or to refresh your skills. Night dives are at the request of the clients. The boat captains are island natives and know the lagoon and dive spots perfectly. Instructors can provide PADI, TDI and ANTD and speak English, French, Spanish, German and Japanese.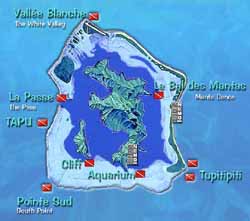 There are nine primary dive areas to choose from depending on the weather and the level of diver experience. Three dive sites, L'Aquarium, Cliff and The Manta Dance are located inside the lagoon while the others surround the atoll on the Pacific side.
Tiputa Pass offers a chance to see a colony of 25 dolphins and to cruise past Shark Grotto with a large concentration of grey reef sharks. Outside the pass to the right is a protected area where you can see sharks, turtles, rays and dolphins as they cross the pass.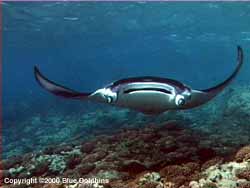 Manta rays stay in Rangiroa all year with the biggest frequency in August. Small manta rays (young) are sometimes seen with the smallest observed being less than three feet.
The kinds of sharks found in Rangiroa are the white-tipped reef, black-tipped, nurse and hammerheads. Turtles and large napoleon wrasses live on the outside reef accompanied by a myriad of coral fish such as parrotfish, ocean perch, butterflyfish and juveniles of every conceivable color.
Blue Dolphins and the convenience of the Kia Ora Village combine to make an outstanding dive trip both above and below the water. What could be more perfect than to finish a hard day of diving in your private cool-water jacuzzi overlooking a crystal lagoon.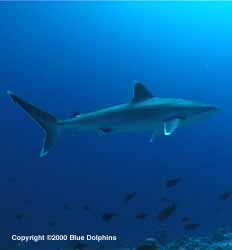 Rairoa is the island's ancient taumotu name and means "immense sky." That is exactly what you get with some of the best sunsets right off the front porch of the Kia Ora's beach bungalows. Where the sea meets the land, Rangiroa is indeed an immense dive and vacation destination.