Parrot Bay Village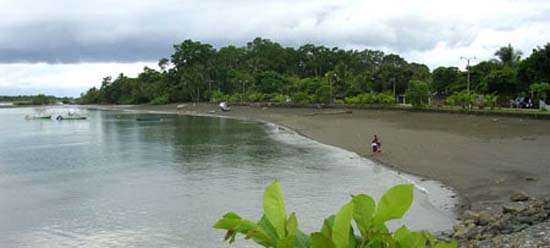 SPORT FISHING
DOLPHIN WATCHING
DAY & EVENING JUNGLE TOURS
KAYAKING
SWIMMING
HIKING
HORSEBACK RIDING
SHOPPING


Just outside the bustling port town of Puerto Jimenez, situated on a sand-spit along the Gulfo Dulce, is the Parrot Bay Village. This is a popular location for sports fishing and has some of the most exhilarating day trips of the area.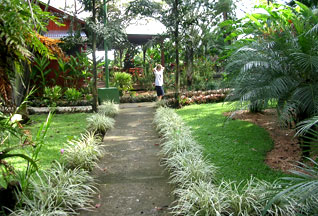 Parrot Bay Village is definitely the nicest and most convenient place to stay in Puerto Jimenez. Beautifully manicured gardens lace the eight charming cabaÒas surrounding the restaurant and bar in the center of the property. Each welcomes privacy and cozy lodging with open beam ceilings, teak construction, tiled floors and lofts. They are designed to accommodate up to five guests and are ideal for families. There is no pool, however the calm bay is perfect for swimming.
After the two-hour ride across the north end of the Osa, we were pleasantly greeted at our door with fresh fruit smoothies by the staff of Parrot Bay Village. We took a 10-minute stroll along the Gulfo Dulce shoreline into the town of Puerto Jimenez. Dark clouds were looming over the bay. It was a holiday and the local kids were gathered around the main pier, laughing and jumping off into the calm water. The local folk were celebrating in the streets.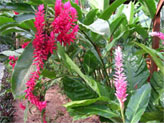 We met some ex-patriots standing out in front of a shanty hotel across from the 'collectivo' (bus) station. They directed us to the best local soda shop where we grabbed a bite and discussed how to get to Carate. We could take the collectivo that leaves at 6am and 1pm to Carate, but we decided to schedule a taxi to pick us up from the village more conveniently the next morning. The rain fell hard that afternoon and a friendly local offered us a ride back to Parrot Bay Village. We retreated into our little bungalow, lit some candles and savored the stillness of the early evening rains.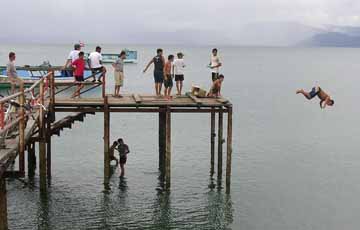 The next day after breakfast, we took a walk through the mangrove reserve near the entrance of Parrot Bay Village. We spotted colonies of snowy egrets nesting atop mangroves with crocodiles lurking below. It was 9am, and our taxi arrived on time. Another adventure began as we headed south to Carate.
Website: www.parrotbayvillage.com
Lodging: $100.00-145.00 per night, dbl
Dining: $80.00 dinner, $15.00 breakfast for four
Story and photography by Denise D. Stansfield. Copyright ©2003-2005 All Rights Reserved.