Raja Ampat
There is a very special place where the Pacific and Indian oceans meet and make up part of the Coral Triangle. At the confluence of these two massive bodies of water is an area so rich in marine life that the best scientists of the world are challenged to name the species. More different species of fish and corals can be seen on a single reef than in the entire Caribbean Sea.
Raja Ampat - Where the Pacific & Indian Oceans Meet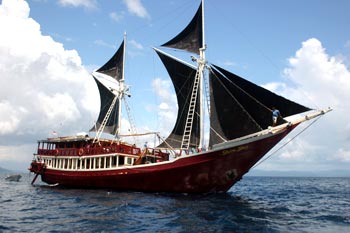 Behave yourselves, or the Bugiman will get you! Ever wonder where this childhood threat originated?
The Buginese of Sulawesi are well-known for their unique style of sailing schooner, but it was the infamous Bugi pirates who sailed the seas of Indonesia in their magnificent black-sailed galleons and terrorized early European sailors. On board the Seven Seas, a completely restored and modernized Buginese schooner, we planned to explore the remote eastern waters of Indonesia, not for the Bugimen but for the magnificent array of sea life.
There is a very special place where the Pacific and Indian oceans meet and make up part of the Coral Triangle. At the confluence of these two massive bodies of water is an area so rich in marine life that the best scientists of the world are challenged to name the species. More different species of fish and corals can be seen on a single reef than in the entire Caribbean Sea.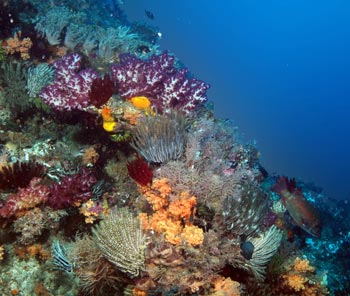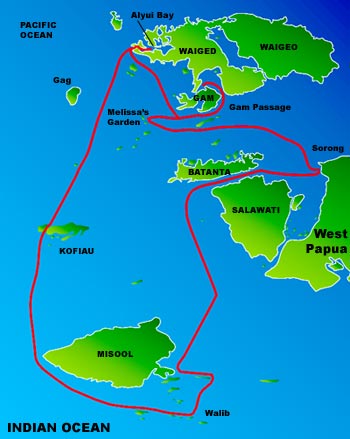 This is one of the last few places on the planet where the reefs remain relatively untouched. Today, only six percent of the reefs in Indonesia are considered pristine. Raja Ampat has more than its share.
Located in the eastern portion of Indonesia is West Papua (formerly Irian Jaya). This group of islands has only recently attracted the attention of biologists, divers, photographers and conservation groups.


THE FOUR KINGS
Raja Ampat (which means Four Kings) includes the larger islands of Waigeo, Batanta, Salawati, and Misool, plus hundreds of smaller ones. The archipelago is part of an area known as the Bird's Head functional seascape, which also contains Cenderawasih Bay, the largest marine national park in Indonesia. Our journey on board the Seven Seas will take us past these islands and will give us a chance to sample the diving off two of the "kings."
Our boat departs from Sorong on the northwest side of West Papua. Getting there is part of the challenge. There are no direct flights from Bali so the best route is to fly through Makassar in Sulawesi. This means an overnight stay. There are no airport hotels but a few are dotted along the coast in Makassar. We stayed at the Hotel Makassar Golden which was clean and spacious and proved to be in a good location, next to the famous Losari Beach. It was not quite a beach but it has beautiful sunsets along the waterfront that the whole town gathers to watch.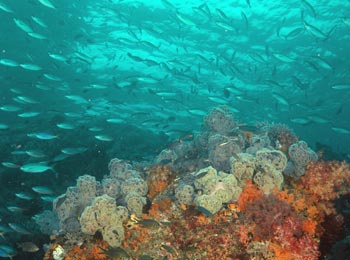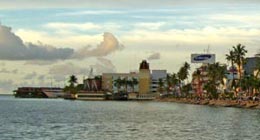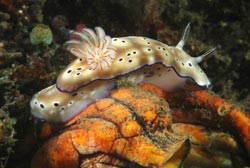 NORTHERN ISLAND GROUP
The next morning we flew to Sorong where the Seven Seas was waiting for us to begin our journey.
The boat left the dock around sunset and we headed north towards Keuro Island. There we planned to look for manta rays and dive some of the popular sites such as Melissa's Garden, the Gap and around the island of Gam.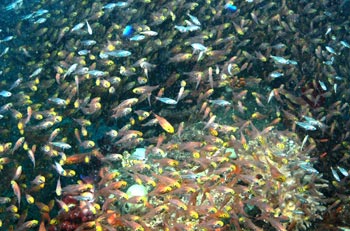 Dr. Gerald Allen, famed biologist, was on the previous trip and set a new record identifying more than 250 species in a single dive. We were amazed to see more nudibranchs on a single dive than on entire dive trips to other areas. Raja Ampat truly embodies the concept of biomass and is one of the last places on the planet to still have this biodiversity of species.


DIVING WITH MANTAS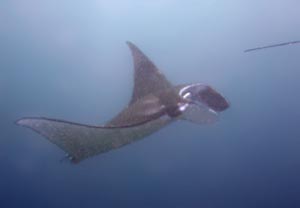 We were told before the trip that there were so many manta rays that after the first dive you would want instead to see nudibranchs. This turned out not to be the case for us but we did get to dive with mantas twice in one day. We descended Manta Rock which is actually a long section of the reef. We divided into two groups to search for the mantas. Within a short time three mantas appeared and circled around us for a while.
The other group including two German film makers and a biologist had more luck. They saw and captured on high-definition video eight mantas including six blacks and two chevrons with spots on their backs. There appears to be a high percentage of black mantas in the area as we saw more black rays during the afternoon dive.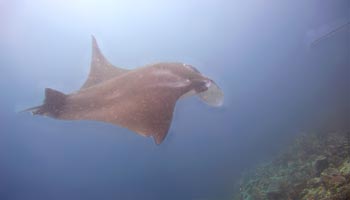 We would have loved to stay there for days and dive with the mantas but there were many more exciting locations to visit. We tried to dive Melissa's Garden but the current was too strong. We dove instead the west side of Keuro Island.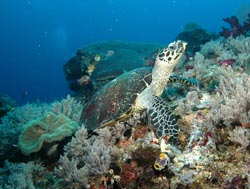 This turned out to be a fantastic dive site. There was a very beautiful wall covered with yellow soft corals that reminded us of the Yellow Wall at the Savusavu Straits near Taveuni, Fiji, but this was better. We spent some time with a very healthy-looking hawksbill turtle, spotted four lobsters hiding in a small cave and danced with thousands of tiny antheas and other small fry.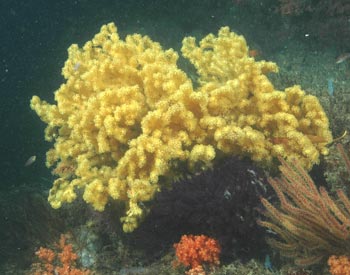 We continued our passage north to Alyui Bay. Our first dive was at the Point and to our amazement we saw another yellow soft coral and fan wall even better than the previous one. Around the point we arrived at a splendid area full of fish and small nudibranchs.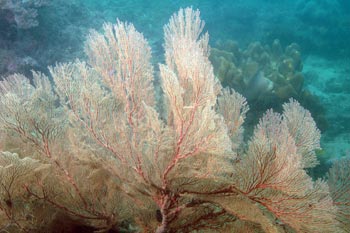 The day was packed with a trip to a local pearl farm and two more dives. We were also planning to do our first night dive of the trip at the Fuel Dock which is near the pearl farm. We were told that after this dive we could be considered official muck divers. No one seemed to be excited about diving the shallow muck of the fuel dump.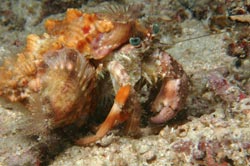 Alright, ready for dive number four? Let's go muck diving!
As we dropped into the dark water of the fuel dump a fantastic world unfolded. Hermit crabs, squid, cuttle fish, eels, needle fish, nudibranchs and numerous other creatures presented themselves.
As we rummaged through the trash found under the dock of the bay we found a sandy colored wobegone that was sleeping and blended into its background. Close by, also well camouflaged in the sand, lay a crocodile fish. Many cartoon-like characters inhabited this nighttime seascape and it was so fascinating that we did not want to surface.
SOUTHERN ISLAND GROUP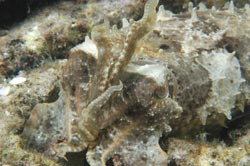 We motored south all night and awoke offshore of Kofiau. We planned a couple of dives en route to our southern destination of Misool. The dive sites consist of a series of bommies, each with an amazing array of marine life. This area is where National Geographic Magazine photographer David Doubilet spent many days and Dr. Gerald Allen set his single dive species count record.
The corals were mainly beige and brown and the fish blended in with the background. Some bright corals and fishes brightened up the otherwise dull landscape, but many treasures were to be found lurking in the cracks and crevices.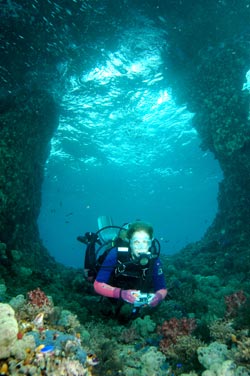 At the end of the day we moved on and after another night of motoring we arrived at Misool. We spent the next three days diving such sites as Fan Faire, BBQ Reef, the Cave, Faberchet and a spot that Lynn renamed Turtle Point because we swam far out to a promentory of the reef where a large turtle was waiting for us to play. Faberchet was full of many small creatures to photograph. The entire trip we had been searching for the elusive pymgy seahorse, no bigger than your baby fingernail. We spent time combing each gorgonian fan without success. although there were many wonderful critters living on or in the fan, so far we had seen no seahorses.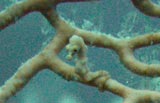 Stewart, our dive master, suddenly pointed to a fan and instructed Lynn to photograph. She spotted a tiny coral-colored seahorse that blended in completely with the gorgonian fan. Then she lost sight of it but her 10 megapixel digital camera had faithfully captured a clear image of the Denise Pygmy Seahorse (Hippocampus denise) which is the smallest described seahorse in the world. Lynn was ecstatic!


THE BIRD OF PARADISE, PEARLS AND MORE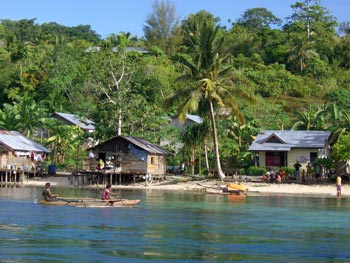 Our days on board the Seven Seas were packed with not only great dives, but also kayaking, water-skiing, hiking and spectular sunsets. Some of the highlights were our trips to see the elusive Birds of Paradise, the pearl farm and Favendi Caves.
In order to watch the early morning mating ritual of the colorful Birds of Paradise, we had to leave before dawn. In the dark, we inched our way through the reef to shore and then climbed the dew-covered slippery slopes. New Guinea has a large number of species each with their own set of mating displays and behaviors. Waiting in the bird blind, we watched the treetops for action. Just at the precise moment that the birds where supposed to arrive, it started to pour down with rain. The male bird came out to play but the female did not show. We waited in vain for the rain had dampened her desire. However, the hike through the rain forest yielded many other wondrous sights including beautiful jungle flowers and flocks of parrots.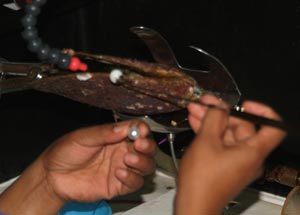 We had more luck at the pearl farm and arrived just in time to witness the harvest. We watched as the workers removed the pearls and replaced them with blanks to serve as the basis for the next pearl. Every part of the oyster is put to good use. Those that would not be used for the next culture were cleaned and prepared for sale. Both the oyster meat and the shells bring in additional income and nothing is wasted.
On our last day at sea, we were given permission to pass other well-guarded pearl farms on our way to swim in the dark recesses of a large gothic-style cave. In ancient times, Favendi Caves was a place of worship and was fiercely protected. Anyone that ventured near was in danger of losing their heads.
Once we entered the cave, which runs deep into the earth, we left behind the sunlight streaming in from its giant mouth. The massive cathedral ceiling echoed the sounds of dripping water and fruit bats. We swam peacefully in the refreshing, shallow waters, exploring its nooks and crannies.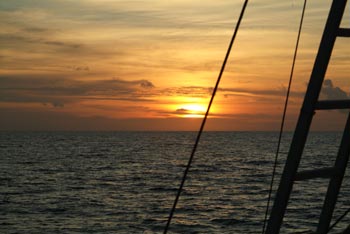 Our ten days on board the Seven Seas went by way too fast!
We traversed a large part of Raja Ampat and sampled some of the best diving the area has to offer. Mark Heighes, our skipper, Stew, our knowledgeable dive master, the friendly Indonesian crew members and the interesting well educated guests made the trip especially enjoyable. Julie was always around to offer up treats between dives or at meals and kept us well-fed. Our chef, Anton, created delicious recipes using fresh ingredients. Peter Mous, one of our Nature Conservancy friends, enjoyed free diving for our daily supply of fresh fish.
In a remote corner of the ocean, with the warm breeze caressing our faces under a brilliant setting sun, our thoughts drifted far from the worries of the everyday world.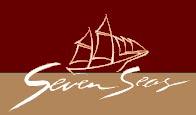 OTE Magazine would like to thank our sponsors Seven Seas and Hotel Makassar Golden for their support in this project.
PT Seven Seas Cahaya Utama
Kuta Poleng D7, Jl. Setiabudi Simpang Siur, Kuta 80361 Bali - Indonesia
Phone: +62 (0) 361 750129 Fax: +62 (0) 361 766546
For information about the Seven Seas, contact the Seven Seas.
Or send an email to info@thesevenseas.net, with cc to sevenseas.expeditions@gmail.com



Hotel Makassar Golden
Jl. Pasar Ikan 50-52
Tel. (62-411) 333000,Fax (62-411) 320-951
e-mail: info@makassargolden.com
PO BOX 1216 Makassar 90111 South Sulawesi, Indonesia
We would like to give a special thanks to Mark Heighes, Seven Seas, for his assistance in helping to test the MantaCam, our new live underwater video camera. For video recorded from our Raja Ampat trip, visit Ocean Presence Technologies.
Article and Photography by Robert Aston & Lynn Jaye