Cousteau Fiji Island Resort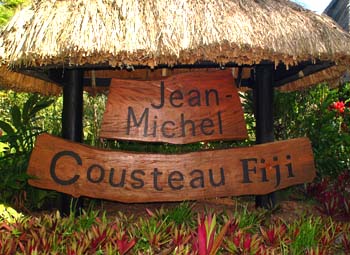 An easy hop from Nadi is Savusavu Bay, on Vanua Levu, home to the premiere Cousteau Resort. Situated on a peninsula with spectacular sunsets, this island resort has everything a serious diver or family needs for a week of fun. Every part of this tropical adventure is done within an ecological context. In a twist from other dive operations, one comes away with more knowledge about the environment and the world below. The ocean becomes your classroom.




Jean-Michel Cousteau along with other family members, have spent their lives exploring the world's oceans to protect the environment through education. The resort that bears his name is an eco-friendly paradise for ocean lovers of all finds. The various beach front bures are designed differently for couples, families and lovers. Spread along the peninsula, you can walk out your door to find the beach and good snorkeling. The grounds are beautifully landscaped and the air is filled with the sounds of birds.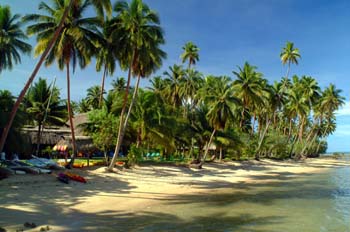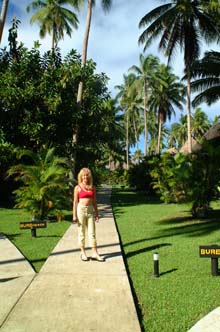 This was our first stop in our island tours and Lynn, my dive buddy, underwater model, photographer and assistant editor, could not wait to drop in for a snorkel in the inviting warm crystal clear water. We grew excited about our first dive the next day as we collected our dive gear.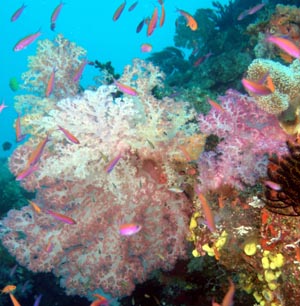 L'Aventure is the name of Jean-Michel's dive operation and boat. Not only do they have several very knowledgeable dive masters including a local Fijian, Didi, but most dives are accompanied by their resident marine biologist, Mike Greenfelder (biologist@connect.com.fj). The entire diving experience is greatly enhanced having firsthand knowledge about the animal and fish encounters.
(Learn more about Didi and his efforts to protect Namena Reef in the Moody's Namena story.)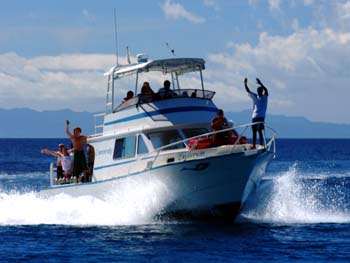 The 37-foot custom-built dive boat is designed for up to 12 divers but generally carries less. This is one of the fastest and best equipped in Fiji with GPS, color depth sounder, radar and showers for the divers. Most of the identified dive sites are within easy reach along the Savusavu coast. The fast boat comes in handy to make the long journey out to the world-class Namena Reef where the best diving can be found. New dive sites are continually being found and divers are invited to help name the sites.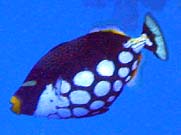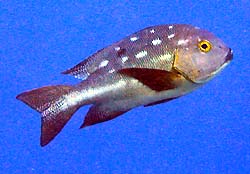 Barracuda Wall is just off the coast of the resort and generally has a resident school of 50 or more barracudas. We dropped in and immediately saw a school of black batfish. Among the brain and other hard corals swam juvenile black and white snappers and fusiliers. Lynn was delighted to find one of her very favorite fish, the clown triggerfish . We were on the lookout for barracudas and hammerhead sharks but did not see any that day.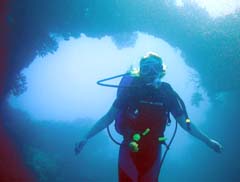 At Hole-in-the-Wall, near the airport, we found the barracudas we were looking for. This vertical drop off has several huge gorgonian fans and lots of palegic animals such as large tuna and bronze whalers. Spotted sweetlips are also common.


We descended to about 60 feet and moved along the wall until we found the hole and peered inside. We looked up just in time to see two bronze whaler sharks pass overhead. We also found large lobsters and tiny blennies hiding in the wall.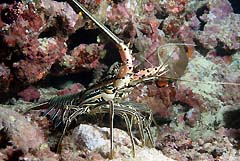 The next day we were off again in search of diving adventures. A new dive site, Whale's Tail, is a series of bommies and a fairly easy dive. When we entered the water, two big walu and a large silver tuna swam by. The highlight of the dive was when we spotted a hawksbill turtle. I swam into position for a photo with Lynn on the other side of the turtle. This friendly turtle swam quite a distance with Lynn on one side and me on the other. What great fun!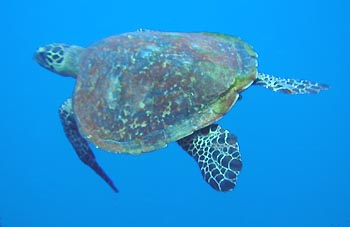 In the afternoon, we explored Alice in Wonderland, a section of reef with several sureal mushroom-shaped corals. Hiding underneath, I found several small sleeping reef sharks.
On our way back in the boat, a pod of spinner dolphins came to play in our wake. They were jumping all around us, surfing alongside us. Then we saw a Minkie whale who surfaced just ahead of the boat. All and all, it was quite exciting!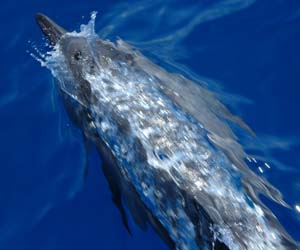 None of the diving around Savusavu Bay and the Cousteau Resort prepared us for what was yet to come. The reefs in the area have a good collection of different types of hard corals but what we were looking for are the colorful soft corals that Fiji is famous for. The weather had been excellent so we planned to make the hour crossing to Namena Reef in search of soft corals.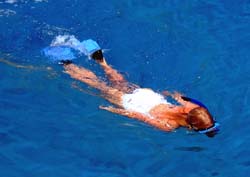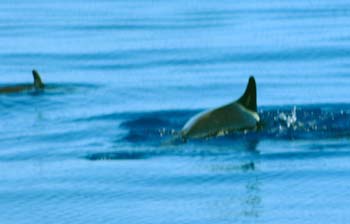 The next day we left early to explore one of Fiji's most beautiful reef systems. On the way to Namena, the water was like glass. Halfway across we spotted a large pod of long-fin pilot whales. So we jumped in to snorkel. They dove and swam below us as they moved off.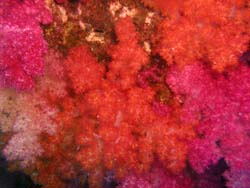 Namena Island is a small island 20 miles to the south of Savusavu and has a fringing and mostly unexplored reef. Multi-colored soft and hard coral gardens claim a large resident abundance of marine life. Out in the middle of the Koro Sea, it is an excellent place to see large animals such as barracuda, Spanish mackerel, dog-tooth tuna, large sharks and sometimes mantas.
It is the soft corals, promising to be Fiji's best, that we are in search of.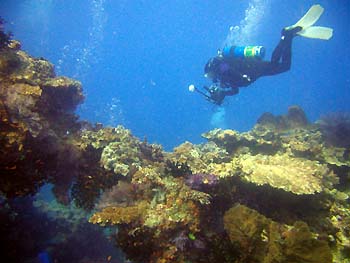 North Save-A-Tack Passage is a wide channel with several bommies covered in soft corals. At the mouth of the passage, a wall drops off to more than 5,000 feet. This dive area is called Grand Canyon and is where the big fish cruise up from the depths of the Koro Sea.
Timing of the dive is extremely important as an outgoing current can decrease visibility and an incoming current can to be too much for divers. We dropped down and swam along the upper lip of the wall until we reached a sandy area that some call Grand Central Station. This is because, depending on the currents, you can see large schools of barracuda, Spanish mackerel, bigeye trevally, dog tooth tuna and large numbers of gray reef and white-tip sharks.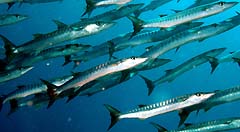 At the far end of the sandy bottom plateau, at about 60 feet, is a large arch that connects two bommies with spotted sweetlips suspended motionless in the shadows. The bommies are alive with color being covered gorgonia fans, black coral and soft corals of every imaginable color.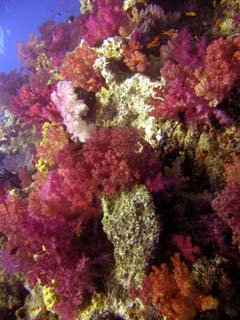 Passing through the arch we entered a channel with several bommies. A favorite bommie is called Kansas because it is covered with Sinularia soft coral resembling fields of wheat swaying in the wind. A small bommie nearby is the famous Window of Dreams.
Many of these bommies come within 15 feet of the surface and afford excellent viewing the multitude of small fish that inhabit the coral gardens brilliantly illuminated by the midday sun.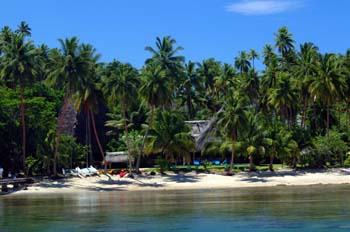 The resort attracts a wide variety of guests from large families with small children to serious divers. An assortment of activities including water sports, hiking, tours and shopping, catering to the interests of all ages.
A four-star gourmet restaurant features tropical creations with a strong focus on high-quality nutritious foods. Employing local fresh vegetables and seafood, the meals are among the best to be found anywhere in Fiji.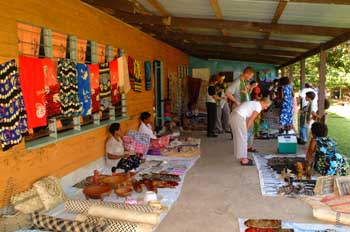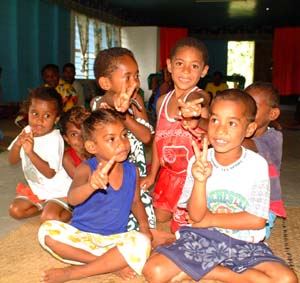 Other activities include traditional Fijian village tours and nature hikes. Bula Camp is available for children as well as child care for all ages. Yoga is offered each morning or take a hike in the rain forest down to Waisali Waterfalls.
While the resort attracts families, it is also a place for lovers. Special romantic dining can be arranged. Honeymooners that also love to dive will find this a special place. Even weddings Fijian-style can be performed. Everything is done with the environment in mind.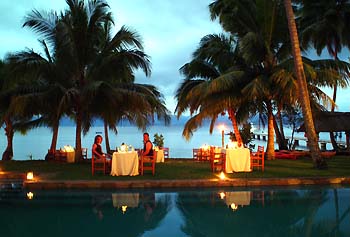 Before sunset, we took a kayak to a small nearby island, part of the resort. After swimming in the shallow water and watching the setting sun, we kayaked back watching the full moon rise.
We got back in time for a fragrant oil massage at the resort's spa while the last birds of the day were finishing their songs. We were now ready for a romantic dinner under a full moon. A purely delightful and delicious way to end the evening. Our stay at the Cousteau Fiji Island Resort will remain one of the most memorable experiences of our trips to this tropical paradise.