Nuku Hiva, Marquesas
Nuku Hiva is the largest island in the Marquesas and second only to the island of Tahiti. Isolated nearly 1,000 miles out into the Pacific, the Marquesas are a group of islands with their own culture and history. With only 2,400 inhabitants, high mountains, long valleys and isolated bays, Nuku Hiva is one of French Polynesia's most remote adventures.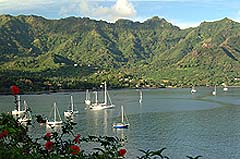 Be prepared for a long first day as the flight from Papeete may stop in Rangiroa (Saturdays only) and the two-hour four-wheel drive from the airport (depending on photo stops) arrives at the Pearl Beach Lodge too late for diving. You can select to take the seven-minute helicopter ride (except Saturdays) but it may be too expensive considering the initial cost and any extra charges for excess weight. The long and bumpy ride through the island's interior is fun and interesting and is best done on the first day.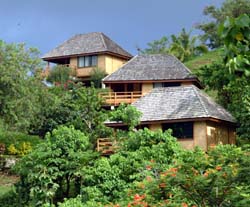 Once you are settled in, you quickly realized that you have arrived in paradise. From the balcony of the Nuhu Hiva Keikahanui Pearl Lodge, the bay below shimmers with a beauty unmatched in French Polynesia. The Pearl overlooks the bay and village of Taiohae with a nearly-black sand beach below. The 20 bungalows sit upon a hill with panoramic views of the bay and village. Local artwork adorns each bungalow with all the comforts afforded by the best hotels.
In addition to diving, Nuku Hiva affords many opportunities for land and cultural experiences. The all day four-wheel drive excursion to Anaho on the north side of the island passes waterfalls and sweeping vistas. The beach at Anaho is not to be missed as the towering rocks overhead creates a long lost sense of primitive existence. Lobster at the local restaurant and a visit to one of the important archeological sites complete the day.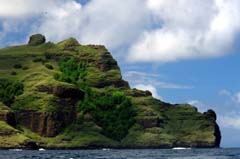 The Centre De Plongee Marquises, operated by Xavier Curvat, dives along more than 60 miles (100 kms) of rugged basalt coast. There are sheer walls and a large number of caves to explore. Although visibility at times is poor, it can reach 60 feet. Big pelagic fauna are abundant, including eagle rays, stringrays, barracudas, manta rays and hammerhead sharks.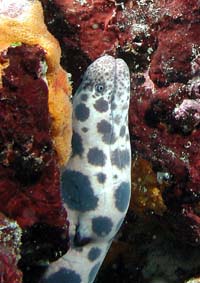 There are 15 different types of moray eels including the dragon moray found only in the Marquesas. Friendly octopi are also found in the crevices. Several kinds of lionfish are present.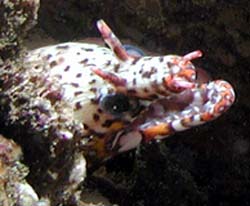 Cave diving is very interesting with giant lobsters, groups of stingrays and pockets of freshwater or air to explore. Ekamako Cave, 15 minutes from the dive shop, has a wide mouth, 20 or so stingrays and too many lobsters to count.
At Anse Haatuatua near Matateteiko Point, we swam through a cave and emerged to find several 12-foot manta rays eager to play. They circled us the whole dive and even followed us back to the boat. Weather permitting, Fred, divemaster will take you to see the Peponcephala electra closely related to the pygmy orca but is really a type of dolphin. You can snorkle with hundreds of them but scuba might drive them away.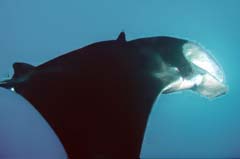 Plan to visit Hiva Oa, which can be connected on your return, for a very small additional fee. However, you must be content with the many land excursions as there are no diving facilities on this or any other island other than Nuku Hiva. The beautiful Hiva Oa Hanakee Pearl Lodge faces Mount Temetiu (3903 feet) with views of Bordelais canal and harbor, the small village of Hanakee and the volcanic island of Tahuata in the center of Traitors Bay. Each of the 20 bungalows (identical to Nuku Hiva) were decorated individually by local artists and have spectacular panoramas.