Costa Rica Resorts
Costa Rica Resorts
An undiscovered land of enchantment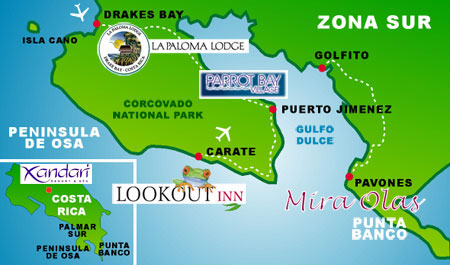 GETTING TO COSTA RICA
Costa Rica has become a popular vacation destination among travelers. If you call the tourist board or inquire with a travel agent, chances are you will not get much information on the southern part of this Central American country. When you talk about southern Costa Rica, a sense of mystery and wonder stares back at you.The land in the southern part of Costa Rica extends from Palmar Sur to the tip of the Burica and Osa peninsulas. This remote and pristine land is where you will discover the best of Costa Rica. Costa Rica understands the importance of environmental preservation and that tourism is the fastest way to distribute wealth to their people on a national level. Thanks to the area's numerous conservation groups and eco-lodges, hopefully it will stay pristine.My husband Mark, our two children, Deanna, age 13, and Ryan, age 11 and myself scheduled a 20-day visit over the Christmas holidays. What better way to spend one of the most magical seasons of the year, with only a pack on our backs and a good itinerary.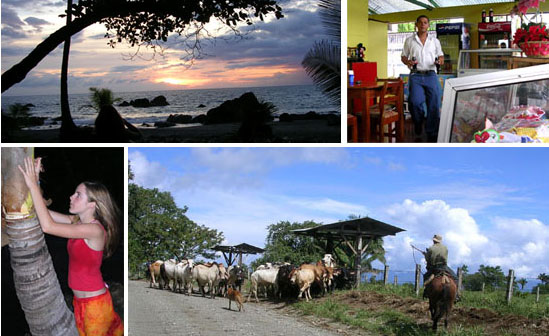 Planning for this trip you should get a good map from your local bookstore and study the geography and the terrain of the southern area. Carefully research and plan your destinations, noting where the roads, bridges, docks and ferries are located. A flexible Itinerary is good and always have a back-up plan in case roads are bad or if there is any miscommunication in your transportation arrangements.
I recommend arriving in San Jose, Costa Rica in the afternoon and spending the first night near the airport. It takes at least six hours to fly from the West Coast of the United States, so allow the first night to relax and get into the groove. There are some great travel books on Costa Rica and I suggest reading up and checking out web sites before going, especially if you are driving through the country as we did. Know the terrain and the vehicle ferries. A four-wheel drive is mandatory in the Zona Sur especially in the wet season and a flexible Itinerary is good, since, traveling with children limits the amount of mileage your can cover in a day. Pack light, only carry-on, so there is less to lose or to be stolen. With an average temperature of 80 degrees year round, you want to travel light but do not forget your tickets, vouchers, passport, a credit card, cash, travelers checks, and a first aid kit containing insect repellent and sunscreen.
The flight from San Jose to Drakes Bay
Back at San Jose Airport, as usual, Sans Airines was running on Tico time. We left an hour late for a one-hour commuter flight, landing on the dirt strip of Drakes Bay. Located on the Osa Peninsula, Drakes Bay is adjacent to Corcovado National Park, the world's largest protected rain forest. Flying is a great way to see this fascinating geography of the Southern Pacific coastline of Costa Rica. When Cano Island came into view out of the right side of the plane, some 20 miles offshore, a feeling of excitement overwhelmed my spirit as we were ready to land.
Transportation: Sans Airlines
Website: www.flysansa.com
Flight: one-way San Jose to Drakes Bay $55.00 per child / 75.00 per adult
Drakes Bay--hidden jewels
A thin red clay strip appeared, carved out of the lush green rain forest as we descended upon the airstrip of Drakes Bay. The long bed jeep scheduled to pick us up looked lonely parked on the side of the strip in the middle of nowhere. There was an American girl in the passenger seat waiting for a ride to the village. As we drove through the jungle and over rivers to the coastline, she gave us a quick run-down of the area.
The legendary Sir Francis Drake sailed these waters hiding secret treasures. A cave near the north end of the bay, accessible only at very low tide, is believed to contain a great treasure hidden deep inside its walls. This remote area has a few ranches and a small village with a store, medical clinic, school and of course, a soccer field. There is only one road in the area, from Puerto Jimenez to Rincon and it is passable only during the dry season.
The drive from Drakes Bay to Puerto Jimenez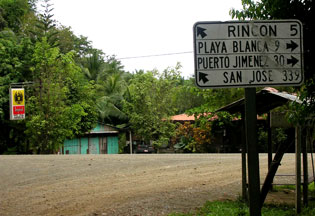 We had tried to arrange a boat to take us to Carate, however we found out that the southern tip of the Osa has long stretches of open coastline and big waves making accessibility difficult and at times dangerous by boat. A charter with Alfa Rameo Aero Taxi would have been a good option, had we known at the time.
With the help of our host, Kate at La Paloma, we arranged a four-wheel-drive taxi to get us to Puerto Jimenez, where we stayed one night en-route to Carate. We met our driver and his young son waiting on the beach after our boat ride from La Paloma that morning. We were unsure of the road conditions. Rumor had it that the road that fringes the north boundary of Corcovado through the town of Rincon was in bad shape. We climbed up into the jungle, deep within the rainforests, crossing creeks and rivers and passing many rancheros. The road never seemed dangerous, however, I was glad we were not driving our own vehicle, as knowing where to cross the rivers was confusing.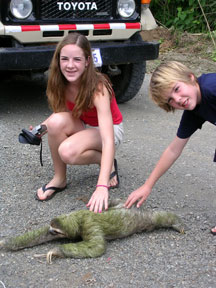 We dropped off our driver's son at his school in a mountain village and picked up sodas and snacks at a local store. Deanna and Ryan got a chance to pet a sloth that was slowly crossing the road just outside of town. When we dropped down onto the Gulfo Dulce side of the peninsula we came to the fork at the Rincon River where we stopped to stretch.
There resting at the river's edge, was the largest crocodile that we had ever seen close-up. The road along the coast was flat and dry the rest of the way south to Puerto Jimenez.
Taxi: $120.00 from Drakes Bay to Puerto Jimenez Make arrangements with La Paloma Lodge
Puerto Jimenez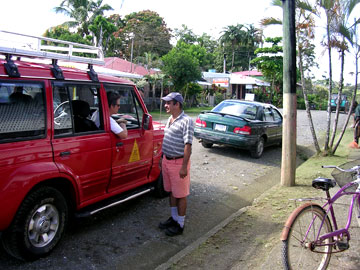 The town of Puerto Jimenez was originally a penal colony in the late 1800s. Criminals would be chased out of their villages with machetes and sent here, warned never to return. A gold rush hit the town in the 1960s and today it is a bustling port town and sports-fishing mecca with one central road and many side streets. This is a great place to stop for provisions before heading south.
The drive from Puerto Jimenez to Carate
By now, we definitely were getting into the groove touring the Osa. We stopped on our way out of town to purchase provisions, including some good rum, beer, water and snacks. This was an incredibly scenic drive. The road is straight, dry and flat, passing large ranchero farms. We drove by cowboys herding their cattle to market. Several wild turkeys stopped us in the road. After 45 minutes we passed the point at Matapalo where the road became muddy and the terra changed into thick jungle. We climbed over misty mountains and dropped into the long, vast stretch of open coastline along the southern end of the Osa Peninsula. Between stopping for wildlife and Mark's Spanish lessons with our driver, it took us three instead of two hours to drive to Carate.
Jeep Taxi: $60.00 from Puerto Jimenez to Carate
Collectivo: $7.00 pp OW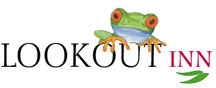 (Click to visit)
The flight from Carate to Golfito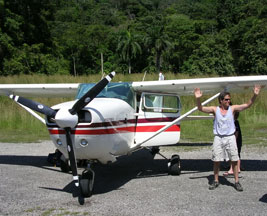 We waved to Terry from the window of the small four passenger-seat plane. It was a shaky ascent up and over the mountains. I felt the exhilarating rush from the scene in Out of Africa as we flew high over the misty rainforests and Punta Matapalo fringed in white foam, turquoise and cobalt blue.
We flew over the Gulfo Dulce and approached the mainland where the vegetation became less dense and dryer, that of a secondary rainforest. After ten minutes in the air, we had a steep landing into the port town of Golfito. Having been here before, i knew that this town is your last chance to grab what you need before heading south.
A taxi took us to the pier where we met up with the car rental agent from Mapache. If you prefer, you can take a taxi or boat to Pavones. We rented a four-wheel-drive Dahaitsu. We finalized the paperwork over a quick bite at the cafÈ across from La Bomba and the gas station. We knew we had less than three hours to get to Pavones before dark.
Email: Aero Corcovado
Phone: Puerto Jimenez, 735-5112 or 735-5353
Flight: OW Carate to Golfito $180.00
Transportation: Mapache Rental, 4WD Dahaitsu: $567.00/$225.00 extra insurance (you need it)/$120.00 drop-off fee, 10 day
Alfa Rameo Aero Taxi or Boat: $45.00 OW Golfito to Pavones
Bus: cheap

Pavones: World's Longest Left Surf Break
When foreigners started buying property during the 1980s in Pavones, they brought with them an environmental renaissance. They began to plant endangered hardwoods and reforesting flourished as cow pastures returned to rainforest. Today it is thriving with wildlife. Known for its many surf breaks, beautiful sandy beaches and rocky tide pools, Pavones is an ideal destination for the active family and independent soul, seeking their own adventures and moments of solitude in paradise.

The sun was setting over Punta Matapalo when we drove into Pavones. It was just how we remembered, not much had changed since our last trip two years ago. A simple rustic beauty permeated the stillness at the end of the day. The fishing boats resting on the shore, families gathered in their homes, horses tied up for the night and glistening waves breaking in the moonlight, were all signs of another day passing.

Unsure exactly where the Mira Olas was, we got stuck in a deep muddy trench. Soon Pablo and Lili of Mira Olas and their crew were at the scene helping us. It was embarrassing, but they got us out by literally picking up the vehicle. What I like about this place is that everyone is so resourceful!

(Click to visit)

Story and photography by Denise D. Stansfield. Copyright ©2000 All Rights Reserved.