Islands of Micronesia
This articles covers the best diving in the group of islands know as Micronesia. These include: Palau, Truk Lagoon, Yap, and Pohnpei.
Wandering the Underwater Beauty of Micronesia
First Stop Palau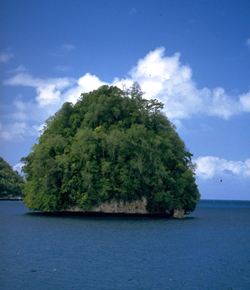 South of Guam in the mid-Pacific Ocean lays Micronesia, an area comprised of literally thousands of tropical islands scattered from Hawaii to the Philippines. Micronesia's largest area contains the five Federated States of Palau, Yap, Truk, Pohnpei and Kosrae, each offering a unique diving experience. Diving is very accessible from each state's main island, providing innumerable adventures for those willing to venture to the outer islands.
With only four weeks to explore these islands, I found myself constructing my itinerary as though assembling an intricate tinker-toy. If time is limited, one might select to visit only one single destination -- each offers its own distinct rewards. Traveling across the Federated States (FSM), I hoped to gain a wider appreciation for the islands: their beauty, diving, marine life, people and customs. I decided to sample Micronesia by dividing my time between four of the most intriguing locales: the Rock Islands of Palau, with their beautiful soft corals and giant gorgonian fans on magnificent walls, the manta rays of Yap, the ghost warships of Truk Lagoon, and Pohnpei's hard coral gardens.
Sunlight peeked between two of the mushroom-shaped Rock Islands of Palau, summoning another day of exciting diving in one of the world's premier diving locations. The warm morning glow streamed through the picture window of my cabin on the Sun Dancer II, revealing a living image difficult to capture on film.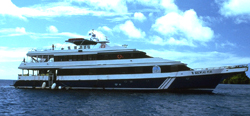 With hundreds of emerald green islands and hundreds of square miles of warm sapphire blue waters, Palau offers the richest assortment of marine plants and animals to be found anywhere. The Islands of Palau are renowned for their giant gorgonian fans and magnificent soft corals of every imaginable color. Until recently, the only way to enjoy these Rock Islands was to venture from the population center, Koror, by small boat. Two excellent dives could be sandwiched between two 45 minute rides. Now, with Peter Hughes's Sun Dancer II and the Palau Aggressor, 4 to 5 dives can be done each day including some spectacular night excursions.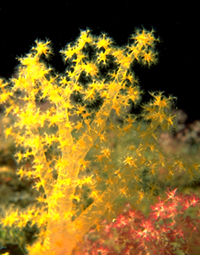 Gardens of multi-color soft corals adorn Ngemelis and Pelelilu walls. Exciting dives to Blue Corner offer shark and other pelagic action. although not known for its wreck diving, Palau affords some exciting opportunities to dive World War II Japanese wrecks, such as the IRO Tanker.
Cave dives and swim-throughs include the Blue Hole, Siaes Tunnel and Chandelier Caves. The Blue Hole drops from the surface to a large sunlit cavern. Going through a hole in the wall at 80 feet is Siaes Tunnel. I swam the long horizontal tunnel emerging at 130 feet to find a brilliant display of soft coral and deep sea gorgonian fans. Another darkness experience is Chandelier Caves; passing through three compartments brought me to a small air-filled cavern. Several years ago, I was able to drop my dive gear and venture into the slippery dark recesses among the stalactites and stalagmites but, unfortunately, this is no longer allowed.
The Blue Corner of Palau offers surprises for the intermediate- to-advanced diver. To be prepared for strong current conditions, the crew of the Sun Dancer II employs a Palau technique called a reef-hook. This allows divers to attach to the reef in high current conditions while minimizing reef damage. Attaching to the BC and a secure rock permits divers and photographers hands-free viewing of large pelagic as the sharks circle closer to inspect the stationary diver.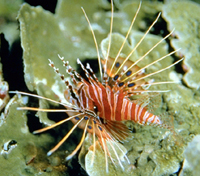 Night diving in Palau under a full moon is an experience not to be missed. Night dives to sites such as Lionfish Rock provide the macro-photographer with ample opportunity to capture Ocellated Lionfish (Dendrochirus biocellatus), bright-red Banded Coral shrimp (Steenopus hispidus) and baby octopus on film. Another must is the unique adventure of Jellyfish Lake -- to snorkel among thousands of stingless jellyfish.
Although making more than 25 dives during my 8-day trip aboard the Sun Dancer II, I still barely scratched the surface. With the long list of exciting dives, plus the always-changing experience of Rock Island diving -- with its abundance of sharks, barracudas, octopus, moray eels and the infamous Titan Triggerfish -- Palau remains one of the world's best dive destinations and on top of my list of favorites.
On To Yap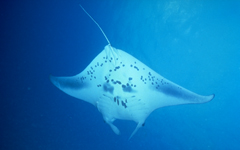 Yap manta rays are rumored to be as friendly as those of Socorro Mexico, so I was eager to dive with this group. Mantas once frequented a shallow cleaning station in the center of Mi'il Channel, but now routinely visit one at about sixty feet. As Yap is a small island, there are only a couple of resorts, with varying degrees of ambiance, that offer manta diving. Any of the island's three dive operators can travel through the hand-dug inner island mangrove channel to reach the cleaning station. The dive master then carefully positions each diver into a pocket in the rock, ensuring them enough proximity to get excellent views of the mantas receiving their cleaning.
Being in the channel that empties the mangrove, timing was critical for the best visibility for photographs. Daily departure times varied widely as we shot for the clearest water. Tides permitting, boats sneaked through the inner mangrove channel that divides the island. Once on the other side, the channel opened up with sufficient flow to entice mantas in from the ocean.
The cleaning station was a Bommie, inhabited by a variety of fish that partake in the cleaning process, where fish of all sizes visit the rock for parasite removal, each cleaned in turn. The mantas hover just above the rock, opening their mouths while cleaner wrasses swim in and out of their open gills.
Two dives in Mi'il Channel were the most I was able to do in a day, and many times the visibility did not warrant a second dive. As I was there for a week, I had sufficient time to explore some additional wonderful diving off the southern tip of the island.
After spending an hour within arm's reach of mantas being cleaned by their attendant fish, we motored south around the island towards clear water diving. As we were speeding past tropical beaches, with roster tail surf breaking over the shallow fringing reef, a pod of 25 dolphins crossed our path -- in a big hurry. We turned to pursue, but we couldn't keep up! At the Southend, Yap Caverns is a series of narrow cuts in the rock with sunlight streaming below. At Lionfish Wall … you guessed it: Spotfin Lionfish (Pterois antennata) close enough to be photographed with excellent visibility.
Next: An Extraordinary TRUK STOP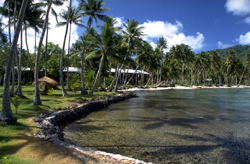 After passing through Guam for the night (sorry no other way to do it), I took the island hopper, which is actually a full-size Continental aircraft, to Moen Island in Truk Lagoon. The airport was unchanged from my last visit in 1991 (and so was the town). I was looking forward to once again photographing the coral displays that adorn the World War II wrecks strewn across the lagoon bottom. If you want wreck diving and spectacular underwater photography, Truk Lagoon (Chuuk as the locals call it) is the place--the worst wreck dive here is better than the best wreck dive almost anywhere else!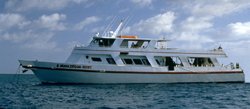 And the dives! Transports, airplanes, submarines--where to start? But one week on the Truk Aggressor live-aboard affords ample opportunity. This is by far the easiest diving, as the stern of the Aggressor simply ties up to the wreck while the dive masters brief us on all the diving highlights. Diving with this much luxury should be a crime.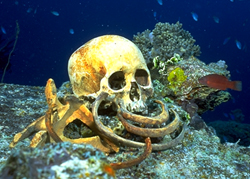 Every diver to Truk Lagoon knows of the 437' Fujikawa Maru, the area's wreck diving showpiece. Easily accessible, resting even keel on the sandy bottom in clear and still waters, the only apparent damage is a torpedo hole on the starboard side. Returning to this vessel was exciting, for it is covered with heavy soft coral growths on davits, masts and king posts. The deck is covered with an assortment of military bric-a-brac, including a bow gun, ammunition, and gas masks. I swam through a hole made by a torpedo into #4 hold and discovered a Japanese Zero airplane with its cockpit exposed. Because of its easy accessibility and shallow depths, it is also a favorite for night diving.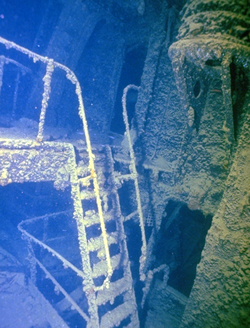 The list of sites is long -- with exotic names such as the Nippo Maru, Sankisan Maru, Shinkoku Maru and the Rio De Janeiro. Each of these holds special surprises, such as the Sankisan which has bullets, bullets, and more bullets! If you're into this stuff, you could view the shallowest tank in lagoon at 115-feet, on the Nippo Maru. This Japanese Type-95 Ha-Go light tank held only a crew of three and was powered by 6-cylinder in-line air-cooled diesel engine.
Or dive the largest of ships, the 510-foot Heian Maru submarine tender, in repose on its port side in shallow water. In her second hold are several torpedoes sticking upright out of the muck -- their rotting bodies no longer posing any threat. Night dives are easy, yielding a spectacular dense growth of Tubastraea yellow cup corals (T. faulkneri) and deep green cups (T. micrantha) on the underside of the bow. Small growths of staghorn horn coral provide homes for Zebra damsel fish (Hubug Dascyllus, Dascyllus aruanus, 4 cm). I have to admit that I was a little uneasy being beneath such an imposing mass of steel in the dark waters.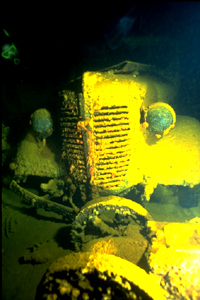 The deepest dive was to Hoki Maru freighter in more than 136-feet of water. The purpose of this advanced dive was to penetrate the #5 hold and photograph the collection of historic vehicles inside. Caterpillar tractors and bulldozers litter the hold. Below the tween-deck at about 136-feet are two 1941 Toyota Model-1 4x2 6-cylinder trucks, weighing more than 5,500 pounds. These Toyotas are almost exact copies of the 1939 US Chevrolet truck with their rounded shapes, bullnose radiators, large tires and huge smoke-blackened headlights. At this depth, I had only a few precious moments to enjoy and photograph these relics.
The Way to Pohnpei
Next on my tour of the best diving of Micronesia was Pohnpei, where rumor has it that mantas have been seen in the hundreds. Reaching the Village Resort, I inquired as to the abundance of manta rays and found that schools of ten or more were routinely seen at a dive site called Manta Road. Photographs taken for the Pohnpei Visitor's Authority showed large remoras attached to the mantas. This was very curious as the Yap mantas showed no signs of remoras, unlike the Eastern Pacific mantas of Socorro Mexico. I eagerly awaited our initial manta dive to view these creatures first-hand to see if their body types and behavior matched the Socorro or the Yap mantas.
Pohnpei is especially known for its huge assortment of crinoids. The barrier reef that surrounds the island has walls that drop to nearly 6,000 feet, sporting colorful hard corals, gorgonian fans, sponges and soft corals. I spent most of my time outside the reef along the vertical walls in search of interesting coral formations. Sites like Black Coral Island with its moderate current swept me past several varieties of soft corals, sponges and fans. One spectacular large yellow gorgonian fan rivaled those found along the walls of Palau.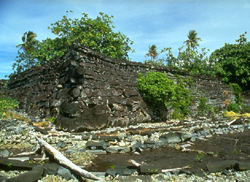 The first dive from the Village Resort was to Manta Road, a cleaning-station where mantas are routinely seen. As it is in a channel between two reefs, the visibility was not great, but the mantas were there. Sitting on the sandy bottom, we waited only a minute or two before the first large female presented herself to the cleaner wrasses and banded butterfly fish who awaited each pass. I also waited -- silently -- with my camera poised to capture the event.
With more than 400-inches of rain each year (not counting El Nino), volcanic-shaped mountains covered with dense jungle rain forests, cascading waterfalls, and high cliffs, Pohnpei is a spectacular place to visit above water, too. The lost city of Nan Madol, with its labyrinth of man-made stone canals and towering buildings, is not to be missed. One day's adventure included an exploration of Nan Madol, a hike up to Kepirohi Waterfall to refresh in the clear cool diving pool, lunch on one of the Temwen Islands -- where selecting from a fine assortment of sea of shells was difficult -- on to Kolonia to visit the Pohnpei Pepper Factory, and then finally sipping Sakau, a mildly narcotic local pepper-root drink, in the company of friends.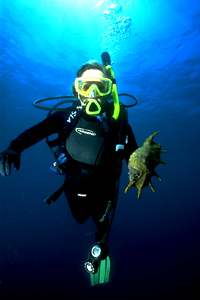 By far the best diving experience was to be had on Ant Atoll. After an hour boat ride across open ocean, the mouth of the atoll became visible, bracketed by pure-white sand beaches and arching palm trees. Once inside, we dropped into the swift out-flow of the lagoon mouth where sharks and pelagic creatures frequent. Using a reef-hook I obtained while in Palau, I hung from the channel wall as sharks lazily circled to point up current.
Legend has it that every seven years, enormous schools of skip jacks congregate inside the atoll in such numbers that their bodies are flung upon the shore. Knowing this, the Pohnpei chief who owns Ant Atoll would make the long crossing to return with boats full of flailing fish. This is when political favors are forged or repaid.
Outside the channel mouth, the reefs were covered with beautiful hard corals. Turtles drifted, relaxed, far from the pressures of modern fisherman. From a distance, a strange spider-like creature hung motionless upon a coral head. As I approached, this three-foot wide spider looked unlike anything I had ever seen in my long history of diving! Coming even closer did not awaken the creature, nor did it stir--and closer still, the strange shape focused into an underwater inanimate sculpture. I must say that above water, Pohnpei and Ant Atoll are -- by far -- the most spectacular gems of Micronesia.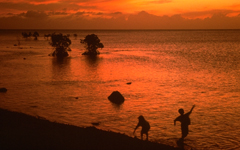 A shark drifts effortlessly past, eyeing the awkward diver; a green turtle heads for the surface for a breath of air; a lacy gorgonian fan -- perched high atop an endless vertical wall -- sways in the gentle warm currents of the Micronesian seascape.
From the majestic island of Palau to the neighboring islands of Yap, Truk, Pohnpei and beyond, the land, people and underwater beauty of Micronesia create a delicious, heady mix that fills the day with outrageous adventures and the mind with vivid memories. The world's top diving area most definitely does deliver experiences that enrich one's life--and it will draw you back again and again to wander this magical underwater world.
Story and photography by Robert Aston. All rights reserved.
Published in Scuba World Magazine, May 1999