Moorea
With its close proximity to Tahiti and its well-developed tourist trade, Moorea is by far the easiest dive destination. Simple plane connections can put you in the water the day of arrival and out without losing a day of diving. The island offers many other land-based activities and of course some very good pearl-buying opportunities.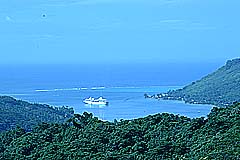 Moorea is located only 10 minutes flying time from Papeete. Bathy's Club at the Moorea Beachcomber Parkroyal Hotel is known for it shark feeds. Moorea is a major tourist attraction with accommodations from the five-star Beachcomber Hotel to the budget Moorea Village to very inexpensive camping. Food, rental cars, activities and restaurantS are pricey by American standards.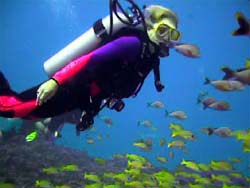 Diving in Moorea is very easy and safe. The island is famous for its clear and warm water, its sharks and its incredible diversity of wild sealife. The staff of Bathy's Club will combines shark feeds with any of the 14 other dive sites inside and outside the lagoon.
Mornings we ventured out to the same spot to feed the sharks. We descended amidst sharks who were circling the bottom at 85 feet. The feed began with black tipped and reef sharks sampling the tuna held tightly in divemaster Franck's steel glove.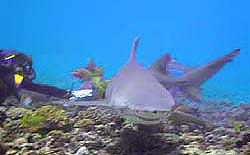 All of a sudden, four large lemon sharks appeared cruising along the bottom with their silly grin. We were told to lay still on the bottom as not to scare them away. But these lemon sharks exceeding eight feet in length did not seem shy at all. Nor were they aggressive.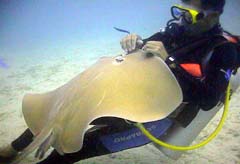 With so many sharks in the water it was hard to decide on which one to video first. I decided to focus on capturing the lemon's grimace so I swam along the bottom in search of the next pass of the four circling lemon sharks. The grey reef sharks and all the other fish, including titian triggerfish that were interested in a morsel of fish. That scene shrunk into the background as these big lemon sharks cooperated in some great video footage.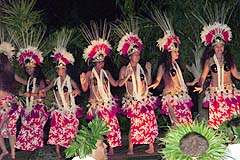 Bathy's offers more than just lemon shark feeds. In the afternoon they will take you to one of several other dive sites to see turtles, friendly stingrays and if you are lucky, eagle rays. The lagoon dive begins at a Black Pearl Farm where you can see what the farming looks like underwater. Past the Tiki statues in shallow sunlit water we went to feed the stingrays. They came in a small pack in search of hand-outs.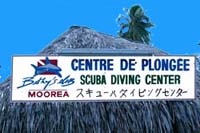 The nice thing about the well developed tourist culture of Moorea are the restaurants, in addition to the fine cuisine of the major hotels. The restaurant at the Hotel Les Tipaniers and La Plantation are two favorites. Les Tipaniers with good ambience, not too expensive and is open later than others.