Vanuatu Visitors Information
In the heart of Melanesia, Papua New Guinea and Solomon Islands to the west, Fiji to the east and New Caledonia to the South.
Getting There
Air Vanuatu from Auckland, Brisbane, Melbourne, Sydney, Noumea and Nadi. Air Caledonie from Noumea with connections from Australia, New Zealand, Tahiti, Japan and France (Europe). Solomon Airlines from Honiara and Nadi with connections from USA, Europe, Japan and New Zealand. Domestic: Vanair services all majors islands in the country. Air Vanuatu, Tel: (678) 23838, Fax: (678) 23250, e-mail: service@airvanuatu.com.vu, website: www.airvanuatu.com There are new Air Vanuatu flights on Sunday from Nadi, Fiji that connect directly to Silent World trips. The Southern and Banks crusies requires an air connection from Port Vila to Santo. Likewise, air connections are required for the return from the Northern cruise.
Entry Visas: All visitors must have a return/onward ticket and a passport with a four-month minimum validity beyond their arrival date. Australian, Japanese, US, NZ and EC passports do not require a visa for stays of less than 30 days.
Transportation: Driving is on the right-hand-side of the road. Cars and vans are available for hire. Taxis are plentiful and are all metered. Mini buses offer a frequent though not timetabled service merely flag one down and tell driver where you want to go, the fare is 100 vatu a trip.
Departures: It is wise to reconfirm flights 72 hours prior departure. Your hotel reservations desk, will be pleased to help you. Airport Tax is VT2,500 for international and VT250 for domestic paid at time of ticket purchase.
Weather: Vanuatu has a tropical climate. From November to April the weather is hot and humid with rainy periods and light winds. May to October is the cooler season when the days are bright and beautiful and the nights are cool and clear. Throughout the year the Southeast tradewinds often provide slightly cooler and less humid conditions in the evenings. Average daily temperatures range from 21-28 Celsius.
Best Tim To Dive: June through October is the best time to dive with visibilities in excess of 100 feet and water temperatures in the range of 25-27 degrees C (77-82 degrees F). Visibility is better in North Efate, the outer reefs around Santo and the outer islands.
Try and bookmark our handy Currency Converter
Important Information
National Tourism Office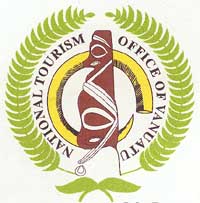 Located First floor, Pilioko House in the centre of town. Opening hours are 7.30 am to 11.30 am from Monday to Friday. P O Box 209, Port Vila, Vanuatu. Phone: (678) 22515 / 22685 / 22813. Fax:(678) 23889, E-mail: tourism@vanuatu.com.vu, Website: http://www.vanuatutourism.com
Lodging
Hideaway Island Resort, Port Vila, Mark Striker, POB 1110, Port Villla, Tel: 678-22963, Fax: 678-23867, Email: hideaway@vanuatu.com.vu, Website: www.vanuatu.net.vu/hideaway
Melanesian Port Vila, POB 810, Port Vila, Tel: 678-22150, Fax: 678-22678, Email: melanesian@vanuatu.com.vu. Inquire about special day-room rates which include an excellent breakfast. DecStop, Luganville, Espiritu Santo, Margaret Donooan, POB 249, Santo, Tel: 678-36175, Fax: 678-36101, Email: deco@vanuatu.com.vu
Food & Restaurtants
Because of the South Pacific and French influence, dining is a delight in Vanuatu. Fresh local fish, beef, fruit and vegetables are in plentiful supply. Top class restaurants offer Melanesian, French, Polynesian, Indian, Chinese, Thai-Vietnamese, English, Mediterranean, European and Japanese specialties.
Hideaway Island Beach Bar and Restaurant
Rossi Restaurant, Port Vila
DecoStop Hotel Restaurant
Dive Operators
Silent World, Amanda Wood, 958 Pacific Hwy, Roseville NSW 2069, Tel:: 61-2-9411-2238, Fax: + 61 2 9419 5145, Email: amanda@silentworld.com.au
Hideaway Island Resort, Port Vila, Mark Striker, POB 1110, Port Villla, Tel: 678-22963, Fax: 678-23867, Email: hideaway@vanuatu.com.vu, Website: www.vanuatu.net.vu/hideaway
Allan Plowers Dive Tours in Luganville, Santo, Tel: 678-36822, Email: apower@mail.vanuatu.com.vu
Aquamarine in Luganville, Tel: 678-3619Email: aquamrne@vanuatu.com.vu
Excursions: Coongoola Day Cruise: Full day cruising islands that includes transfers, a BBQ lunch, refreshments and snorkelling gear. Cost VT7500 (kids free!)
Cascades Waterfall Tour: Tours run twice daily (about two hours) and include transfers, entry to the falls and a guide. VT2500/1500.
Hideaway Island Tour: Two tours daily include transfers, Island fees, snorkelling gear. VT3250/1625 - take some extra money for drinks.
Try and bookmark our handy Currency Converter
People: The people of Vanuatu, a name which means "Land Eternal" are predominantly Melanesian. Amongst the 180,000 inhabitants, there are 115 different cultures and languages making Vanuatu one of the most culturally diverse countries in the world.
Languange: Bislama (Pidgin English) is the national language of Vanuatu, but English and French are also widely spoken.
Handicraft Centers: Handikraft Blong Vanuatu, located in the downtown end of Port Vila, provides a wide selection of authentic handicrafts from many islands of Vanuatu including Art Blong Yumi, Goodies, Centre Point Markets, Exotic Arts plus several other centers and little stalls in the islands.
Dress & Customs: Light and casual, but not too brief in public places please. Tropical clothes for evening wear. Ties are not worn for business. Tipping is not mandatory in Vanuatu.
Currency & Banking: Vatu is the official currency and can only be obtained in Vanuatu. One US Dollar is approximately 133 Vanuatu Vatus ($7.50 USD = 1,000 Vatu). Westpac and ANZ banking facilities are available and all major credit cards are accepted.
Time: Vanuatu time is GMT/UMT plus 11 hours, which is one hour ahead of Australian Eastern Standard time. From Western U.S. (PST) add one day minus 5 hours.
Telecommunications: World-wide satellite communications, 24 hours telephone, telex, fax plus email and internet services. Internet Cafe in Port Vila and Luganville.
Electricity: Electrical points are 240 volts with Australian style pins.
Water: The urban water is safe to drink from tap. When traveling to outer islands it is advisable to bring drinking water.
Health Regulations: There are no dangerous animals or insects on the islands. No vaccinations are required but anti-malarial precautions are recommended for visits to outer islands. ProMedical is a licensed 24-hour paramedic and emergency service, based in Port Villa and is operated by a university qualified paramedic who formerly served with the Australian Defence Force and NSW Ambulance Service. Featuring portable, advanced life support equipment, "ProMedical" responds to calls from the outer islands of Vanuatu as well as co-ordinating medical evacuations. The 24 hour emergency service is covered by basic medical and travel insurance.
Try and bookmark our handy: Currency Converter