CENTRAL PACIFIC COAST
Emerging into civilization from the Zona Sur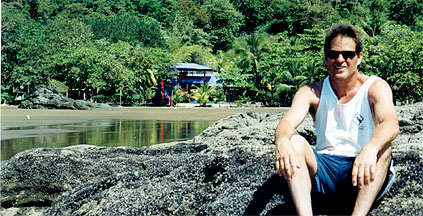 We enjoyed a breathtakingly three hour drive through the South Central region of Costa Rica. The road was paved and very well maintained just a few miles pass the ferry towards Rio Claro where we stocked up on gas, food and beer. From there we headed north through picturesque farms, flowing rivers, waterfalls, colorful coffee plantations and magnificent mountains jutting high into the misty clouds. Heading down the coast we passed the Parque Nacional Marino Ballena, home of the humpback whales.
It was Jan. 5, our son, Ryan's birthday and he said for his birthday he wanted to see the 49ers play. That seemed impossible since we had not seen a phone, or TV, let alone much electricity in over a week. Well, we found the game on large screen at Roca Verde, a small hotel and restaurant on the beach just South of Dominical. Fun place, and they make killer margaritas, poolside.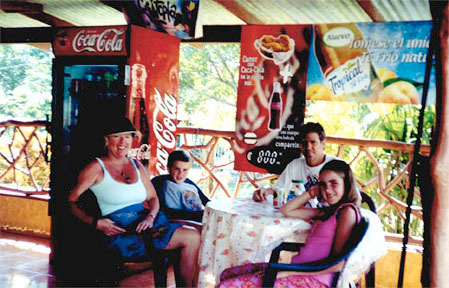 Roca Verde has 10 artistically decorated rooms for $89 per night, and the beach is wonderful for walks in the early morning at low tide.
We had birthday dinner at the Cabinas De Dominical restaurant located less than a minute away, high up on the cliffs overlooking a sandy stretch of beach to one side and rocky point on the other. The ambiance and food was the best in all of Costa Rica, specializing in steaks, pastas, and seafood. For four, with cocktails, dinner and dessert, plan on spending $50.00.
Some of the most beautiful beaches in Costa Rica
MANUEL ANTONIO BEACH

Allow 1.5 - 2 hours driving from Dominical to Manuel Antonio. The road is rough in areas, however the small towns and Sodas that line the highway are fun stops. When we reached Manuel Antonio there was much anticipation. We had heard a lot about this beautiful resort town just South of Quepos. This region has grown faster than any other area in Costa Rica in the past decade. The beaches and park are suffering from unprecedented popularity. The prices are very high. However nothing can take away from this fun, pristine and wonderfully lush resort style place. It is the "Cancun" of Costa Rica.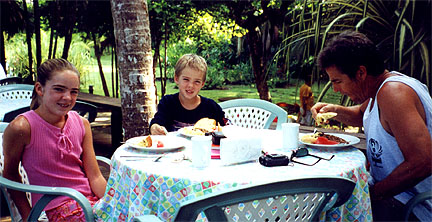 The majority of hotels line the "Corridor" starting from $150. and on up per night. The ocean views are priceless but we prefer locating right on the beach rather than drive or take a 10 minute walk. We found "Karache", one of the only gated hotels that has rooms that look out across beautifully manicured gardens, restaurant, pool and bar towards the beach. Cappachino monkeys hang in the palms that line the path leading through the gardens. Ryan had fun feeding the Iguanas resting on the lawn off our patio. Lodging includes breakfast for $110. per night.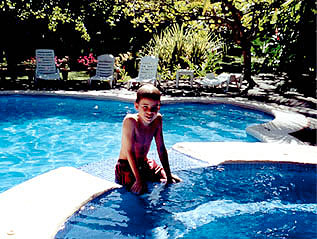 The small breaks along Playa Espadilla are great for bodysurfing and boogie boarding. A 5 minute walk along the beach south takes you to the famous Manuel Antonio Park. Get to the park early, it opens at 7 am and is closed on Mondays. Entrance fee is $7.00 per person, and children under 12 are free. Pack plenty of water. Our park stamp allowed us to hike in the morning, leave the park for lunch, then return for snorkeling in the afternoon.
After being in the Oso Peninsula I had the experience to say this park is overrated. It is very scenic but crowded. The animals are tame. Look for trails that branch off the main trail for a quick adventure into thick lush jungle leading to magnificent vistas and waterfalls. We found some decent snorkeling on the south side of the third beach out around the rocks at low tide.
The restaurants in Manuel Antonio, especially those in hotels, are the best in Costa Rica outside San Jose. The prices are tops too, plan on spending between $75-$100 for four. We enjoyed a delectable seafood platter at the Anaconda Restaurant known for its view at sunset and the monkeys passing through the restaurant, on their way home.
There is plenty to do in Manuel Antonio, with tour operators lining the "Corridor" offering everything from fishing to horseback riding. We were ready to move on by the third day and so was our wallet! We stopped in Quepos, stocked up on gas, groceries, and beer and then headed north towards Jaco.
PLAYA HERMOSA - A Surfing Destination just South of Jaco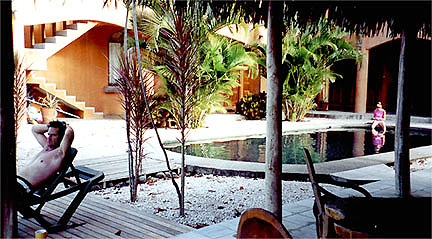 Well, by now I am thinking this has turned into a Surfing Vacation. There have been waves along the entire Pacific Coast. We almost passed up Playa Hermosa, since it is no longer than two blocks, with a market, a few restaurants, hotels, cabinas and lots of beach.
When we walked into a hotel recommended by Frommer's, I thought "Where in the heck are we?" Mark loves surfing and this was his idea to spend our last few days there. I tried to be positive, so I had him drive us back to a Mediterranean-style villa, "Pura Vida" we had passed. Some friendly surfers from Colorado answered the door and invited us in. The blue tiled pool stretching across the grand courtyard that overlooked the ocean was magical. There are three villas at Pura Vida, each with a kitchen, dining area, 2 bedrooms and 1 bath. There is a large fully equipped kitchen off the courtyard for everyone to share. And the price was great, $50 per night. Millicent, the owner, lives upstairs and shares all her beach toys in the bodega including surf boards! To live in luxury the last few days was wonderful. It was there that I found the leisure time to write, draw and paint.
The lively beach town, Jaco, is just 5 minutes away and a fun place to shop and dine. This bustling place has one main road lined with the colorful decor of small shops and restaurants, just a block up from the beach. Known for its Costa Rican Art, this was definitely our favorite town, where I purchased all my gifts to take home.
I highly recommend the Poseidon Hotel for dinner. It was here we spent our last night with our new Colorado friends. This fun local restaurant and bar serves tantalizing drinks, and a select few entrees such as fresh fish, steaks and chicken, while listening to live music. The food was gourmet with excellent service and price, $50 for four.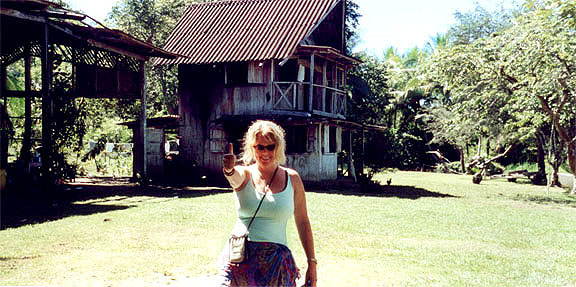 Driving into San Jose was a suicide attempt. We had no choice, it was time to catch our plane and return to the States. I'll never forget the image of two huge semi trucks, one on each side of us, merging together into our lane.
We returned our vehicle in one piece and paid our $16 per person exit fee at the airport. On our flight home, we were already discussing when we will return to Costa Rica, and it will be soon. There is still so much to experience and we only skimmed the top.
Important Information
Money Belt -- Theft can be a problem, so keep it on you.
Swim suits & sarongs -- It is practically all you will wear.
Plastic Bags -- It is hot, humid and wet.
Water Shoes and Thongs -- Your feet will be happy you have them, much of the Pacific coastline and rivers are rocky
Hiking Shoes -- They will get very wet and muddy in the jungle
Bug Repellent -- Don't think you are not getting bit, those mosquito bites can surprise you. Use Avon Skin So Soft over products with deet, It does the job, smells good, and is not toxic.
Benedryl -- Stops the Bites from itching, especially for a restful sleep at night.
Hair Conditioner -- Use along with your shampoo especially in the Zona Sur where the water has a high concentration of calcium that can be very drying to the hair.
First Aid Pack -- Include blister pads for hiking and an antiseptic stick. I suggest Desert Essence Tea Tree Oil stick
Snake Bite Kit -- There are 26 different species of poisonous snakes in Costa Rica
A Hat or Visor & Sunscreen -- Replace your everyday cremes and lotions with a SPF 15-30 Sunscreen
Travelers Checks -- I bought some travelers checks and I am glad I did, AMX covered some stolen out of our Cabina in Pavones.
Other items: Candles, batteries, camera and film
NO NEED TO BRING
Surfboards, Boogies Boards, Snorkel Gear -- They can be rented or provided anywhere you stay
Water -- There is plenty of bottled water in the markets.
WHAT TO KNOW IN COSTA RICA
Cell Phones -- U.S. phones do no work in Costa Rica, arrange a calling card to be used at phone booths
Banks -- Closed on Sundays
ATMs -- Can be accessed at the airports for either Colones or Dollars, make sure you let your bank know where and when you will be using an ATM card and that it has a 4 digit (only) pin.
Travel -- Holidays are peak travel times and have higher rates. Children are additional at most accommodations.

Story and photography by Denise D. Stansfield. Copyright ©2003-2005 All Rights Reserved.