Rancho Kapu, Peninsula de Osa
One of the last protected Rain forests
The Osa Peninsula is one of the oldest land mass in Central America. It is a unique experience to stay anywhere along this ancient world stretching out to its tip, Punta Matapalo. The few lodging options along the peninsula are expensive. For two adults and two children plan to spend at least 300.00 per day for lodging and meals. The high prices are due to the difficulty of creating and maintaining environmentally friendly resorts in such remote and primitive areas, not to mention accessibility is difficult. I must say, the expense is well worth it and the adventure is priceless!

An undiscovered treasure hidden at Matapalo Point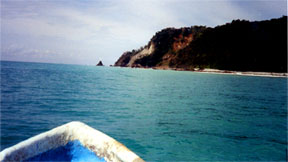 We had paid a local fisherman to take us on a 20 minute boat ride across the Gulfo Dulce to Matapalo Point on his Ponga with shade improvised from a plastic sheet. It ranges from $15.00 - $25.00 per person round trip from Pavones to Punta Matapalo. Fisherman know the Gulf well for its abundance of fish. Unsure of our destination, as we approached the coastline, local surfers paddling in the water directed us to an opening in the lush rain forest along the coast. We came to shore and as I stepped foot onto the sand I felt as if I had stepped back in time entering into some prehistoric dream. When I found the center of this paradise, I had found Rancho Kapu. My husband Mark looked at me and we both had the same thought, is this real?
The ambiance of this private resort is awe inspiring, surrounded by tropical fruits and flowering plants, thick lush rain forest, thriving with wildlife, secluded, and within minutes of some of the best waterfalls, rivers, trails, surfing, snorkeling, and fishing. Only nature abounds so there is virtually nowhere to spend money. The simples pleasures of relaxing in tropical paradise, enjoying the sounds of surf and teaming wildlife makes Rancho Kapu the perfect place to release all stress.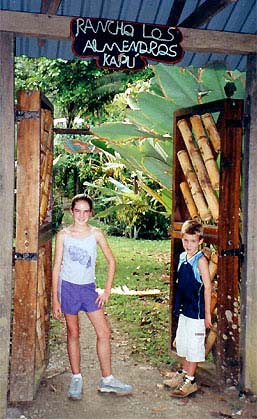 Rancho Kapu accommodates up to 8 people. There are no modern amenities, offering alternative lodging with herb garden, outdoor showers, cooling pond, and solar power. It is very dark at night along the paths, so make sure to bring a flashlight. Kapu was designed and built by an artist with creative decor and colorful surroundings. The mahogany hardwoods give Rancho Kapu a rustic elegance and nautical touch. One can choose from the Main Rancho or the Honeymoon Cabina. This is an ideal place for private groups.

The meals are gourmet, prepared personally for their guests and accommodating to their schedule. Sona prepares the breakfasts and lunch. John, the manager and a master of the culinary arts, prepares the dinners. The kitchen is John's canvas where he enjoys expressing his creativity in cooking. Typical dinner one night was tender chicken lightly fried in herbs from his garden, laced with a mushroom gravy, baked cabbage, onion and sweet potatoes, and steamed chiote sautéed in butter and herbs. Dessert? Fresh baked cinnamon roles with pan fried plantain smothered in a chocolate sauce with ice cream. Incredible!
My family enjoyed a lot of hiking. We ventured into the rain forest on the many trails outside our door. The first time I heard a howler monkey I thought King Kong was nearby. Squirrel monkeys and Spider monkeys hover overhead, Toucans, and Macaws fill the trees. The bright blue butterfly "Morpho Amathorite" flickers in the foliage at the base of root crawling Banyan trees. At low tide we hiked around the Point into some of the most spectacular untouched beaches in all of Costa Rica.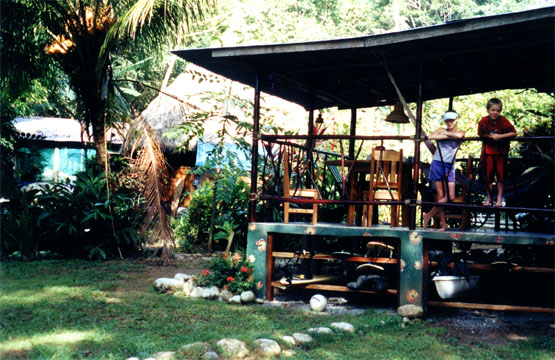 Mark surfed every moment he could. The current is strong on the beach at Rancho Kapul and is unsuitable for children to swim. That did not matter, there was a cooling pond outside our Cabina. Ryan liked checking out all the larger than life insects and the monkeys entertained Deanna with her camera. They both were inspired with creativity.
There are endless fun adventures. John offers a special one day tour to Isla Cano aboard the luxurious 32 foot 2002 Carolina Classic with two 250 hp engines. The day trip accommodates up to 4 passenger and offers gourmet meals, fishing, snorkeling, all your gear, and exclusive site seeing to areas inaccessible by foot to the island and the peninsula.
"Trust Your Guide" adventures next to Rancho Kapul will coach you on a two hour hike up a nearby river climbing over 4 waterfalls to the massive 110 foot King Louie Waterfall while the monkeys follow you on the way. Or take a try at kayaking out to the rock off Punta Mataplo where you can snorkel with 40 plus visibility. Turtles, Manta Rays, Bonita, and Pargo are among a few of the pelagic life teaming around the shelf of this rock. Whale Sharks in April breed in the canyon depths of the Gulfo Dulce and can be seen on many dives. Trust Your Guide offers repelling down waterfalls, bird watching and wildlife tours, and just about any "On The Edge" excursion you desire. Check in with John at Rancho Kapul to set something up.
Leaving Kapu was hard. Our fisherman was on time, looking for us as we appeared out of the jungle onto the beach. We made our farewells and jumped on his Ponga back to Pavones. There we were greeted by friends we had made before we left the Zona Sur. We enjoyed the hospitality of a local Tico family for dinner and loaded up and headed North towards the Central Coast the next morning. It was sad leaving Pavones but the adventure must go on.
Story and photography by Denise D. Stansfield. Copyright ©2003-2005 All Rights Reserved.
Rancho Kapu, Peninnsula de Osa
Costa Rica
8° 33' 57.9024" N, 83° 29' 28.7988" W
CR